Two years ago, I completed a book, Bright Lights of the Second City: 50 Prominent Chicagoans on Living with Passion and Purpose. As a lifelong interviewer of accomplished individuals, writing the book was a professional pinnacle. It introduced me to the personal histories of 50 renowned Chicagoans, including Apollo 13 astronaut James Lovell, jazz great Ramsey Lewis, and broadcast legend Bill Kurtis.
Soon after my book was published, I read a post on Oprah.com titled "5 Breakthroughs You Can Learn from These Visionaries." The piece, packed with a couple of fascinating video clips, sprinkles nuggets of stellar advice delivered in neat, concise but totally believable little packages. They exemplify the kind of inspirational cheerleading messages that can help us breathe more easily — if we remember to follow them when, for example, we're panicking about whether (1) our new project is as viable as we first thought, (2) our problem-solving approach is actually making said problem more manageable, or 3) our new take on a classic situation will appeal to anyone but us.
Take Philippe Petit, for example. He's the high-wire artist who boldly scaled a wire between the World Trade Center twin towers in 1974 — a more innocent time when the terror of 9/11 was simply unimaginable. See the astonishing You Tube video here. Ever emphasizing his rarely matched pursuit of perfection, he proudly says, "people label me a madman of detail, and I don't refute the title. I work towards perfection for thousands of hours …."
On another front, paleontologist Neil Shubin, Ph.D., agrees with many individuals profiled in Bright Lights of the Second City that luck is, quite often, an underrated factor in achieving one's desired outcome. (See Shubin here on "The Colbert Report.")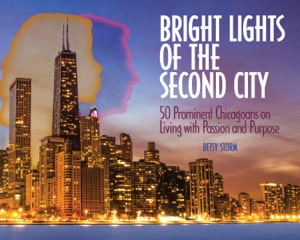 He is also quick to remind us that tenacity trumps many other characteristics. When talking about how he and his team found the snout of a Tiktaalik roseae (a 375-million-year old fossil). Shubin emphasizes, "we could have given up — it had been six years! But we didn't."
Read the Oprah.com post to meet celebrity stylist June Ambrose, cellist Zoe Keating, and Jad Abumrad, cohost of WNYC's Radiolab. They each contribute insights that can stimulate us to live our lives more creatively .