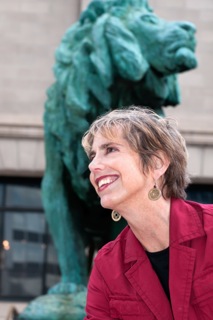 Betsy Storm is a lifelong feature writer and an award-winning communicator. A longtime Chicagoan, she began writing at age  7 after she learned to type on her father's Olivetti typewriter. A newspaper reporter, he was her writing inspiration.
The author of Bright Lights of the Second City: 50 Prominent Chicagoans on Living with Passion and Purpose (2014), a collection of profiles of 50 stellar Chicagoans, Betsy remains fascinated with what makes people tick. What's the real story behind the people, places and events that shape their lives? She continues to explore these fascinating questions with the individuals and families she is privileged to meet while researching and writing family histories, biographies, etc. in her work with The Story of You.
In 2007, Betsy founded Top Drawer Communications, a Chicago-based editorial services and public relations firm. Previously, she spent more than 20 years as a writer/editor and public relations professional for a range of organizations. Betsy began her editorial pursuits in Philadelphia, her hometown, and later moved to New York City to continue her writing career.
Her professional honors include a 2004 Award of Excellence from the Public Relations Society of America. Her work has been featured in the Chicago Tribune, Consumers Digest, Brides, and in many other publications. She holds a B.A. in Communications from American University in Washington D.C. and is a former vice president of Independent Writers of Chicago, the largest organization of professional independent writers in the Midwest.
Betsy lives in Evanston, Illinois  with her overly indulged Cavalier King Charles Spaniel, Coco. The mother of an adult daughter and son, she is also the stepmother of three adult daughters and the grandmother of two young boys, Finn and Wyatt, whom she tries (but without much genuine effort) not to spoil. Betsy is a longtime volunteer in the areas of anti-violence, hunger and poverty, literacy, community mental health, and the Girl Scouts of America.
Contact Betsy to find out how she can help you tell your story.