Many of us have fond and funny childhood memories of our family cars. Here's mine. (Please feel free to share your own as a comment on this post.) I'd love to hear it.
Excitement Up, Top Down
I grew up in a family with a split personality. My parents led double lives — 50 percent of their drive time was logged in a station wagon, but on the weekends, they (and my sister and I) hit the open road in a series of great-looking convertibles, including a fire engine red Mustang, an ice-blue Camaro, and a buttery-yellow Buick LaSabre.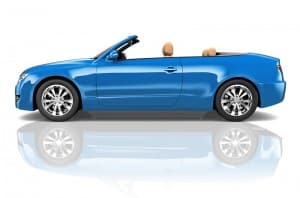 Driving in a ragtop is one of life's simple but divine pleasures. Even before the top goes all the way down, a surge of excitement punctuates the air.
My parents were sporty types. Dad was a newspaper reporter and mom was a snazzy, jazzy homemaker. Saturday nights were devoted to adult socializing, but on Sundays, mom and dad were fond of mobile excursions — like loading my sister, Leslie, me and our hound dog, Gretchen, into the back seat for a two and half-hour drive along country roads to a restaurant in rural Connecticut for dinner. (Growing up in the '50s in suburban Philadelphia, there wasn't all that much traffic on the road. Words like "gridlock" were, happily, still a few decades away.)
My most recent convertible, christened "Jazzy," is synonymous with some of the most enjoyable family time I recall from childhood.
Growing up in the back of a convertible makes you a little bit tougher than the average 12-year-old. A gentle, soft-spoken man, my dad brooked few complaints about the, shall we say, degree of "breeziness" in the back seat. To maintain some semblance of a hairstyle, my mom, sister and I donned scarves or hats; for warmth, we stowed our coziest sweaters in the trunk. The radio played Frank Sinatra or Tony Bennett, and our dog traveled to hog heaven (make that "canine" heaven) as her long caramel-colored ears whooshed in the wind.
These memories created lasting impressions. As I write this, I can sneak a peek out my home office window at the cranberry-hued Mitsubishi Spyder Eclipse in our driveway. And even though he's long gone from this earth, I can visualize my father at the wheel… headed down a rural byway, Connecticut bound.